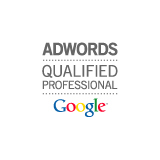 Qualified Google Advertising Professional
HitProfs' founder and CEO Astrid van der Vleut, also known as HitProf, was among the first web wide to earn the Qualified Google Advertising Professional Logo. The logo is granted to individuals who pass an exam, professionally manage one or more Adwords accounts and meet other requirements. Adwords is Google's pay per click advertising program: the sponsored listings located on the righthand side of the regular search results. HitProf is the first Dutch Google AdWords Professional. More AdWords >>
GOOG up after IPO at $85
Search engine Google hit the Nasdaq 19 August 2004 with a 15% rise in share price. Its long awaited but troubled IPO worked out well for those that jumped in timely. Google's initial expectation was to raise up to $3,8 billion for themselves, their employees and early investors with a price range of $108-$135. On the day befor setting the definite IPO-price, Google lowered expectations to $85-$95. The actual price was set at $85, raising $1.67 billion. However GOOG opened at about $100 and did very well on the first day and kept going strong. It never came closer than $95 to its IPO price in the first week. Actual prices: money.cnn.com.
Yahoo! replaces Google
Web portal Yahoo! finaly starts using it's own search technolgy in stead of Google's. Yahoo! uses data indexed with Slurp, formerly Inktomi's spider. (Yahoo acquired Inktomi in Dec. 2002). The results seem to be of high quality. The results pages look like a combination of MSN's and Google's, combining the best of both. Why is this good news for the web? Google and its partners counted for almost 50% of all searches web wide and could be responsible for over 90% of a web sites traffic. Yahoo made up a big chunk of that. It's good to have some more diversity and competition.
Google update Brandy
Google is dancing again. Update Brandy, the thirth upfate after Florida, is a new type of update. Google confirmed this is merely an algo change. An algo change involves a reshuffling of results, rather than adding new pages or filtering out spam results. Other aspects of a classic update are adding and renewing pages, adding spam filters and updating backlink counts. A change in backlinks causes the PR (Page Rank) of a web page to change.

Update Florida
Update Florida was the first Google dance in many months. The Florida update started 15 November 2003 and took about a week to settle on www.google.com as new algorithms and spam filters were being applied. The proccess causes Google's results to 'dance': results for the same query may vary per hour or even faster. The Florida update - dubbed Florida massacre by some - spawned thousands of postings in the search engine optimisation forums. Webmasters and SEO professionals are still discussing the new Google algo. Read more about Google updates on our Google information page.
Dance4Life online
Danc4Life has launched its bi-lingual web site. Dance4Life is an Aids Awareness charity founded by Stop Aids NOW and the World Population Foundation. Dance4Life organise a huge Dance Event on the eve of World Aids Day, starting in 2004. HitProfs proudly sponsors this mega project with it's SEO expertise.
Workshop 'search and be found'
HitProfs participates in the Workshop 'Search and be found' (Zoeken en gevonden worden) on behalf of Syntens in The Hague. Syntens is a Dutch organisation which helps small and midsize companies to improve their businesses. The next workshop will be held 11 May 2004.
50% increase SEM market in 2003
Jupiter Research reports it expects SEM (search engine marketing) expenses to increase 50% this year. SEM is the paid variation of search engine positioning: pay for placement, sponsored listings and search related advertisements like Google's AdWords.
Yahoo! buys Overture
With the acquisition of Overture Yahoo! now owns two crawler based search engines (AltaVista and Alletheweb) and a PPC search engine. This leaves us with three big search/advertising companies competing for searchers and webmasters' resources: Google, MSN (Microsoft) and Yahoo!
Microsoft engages search engines
Microsoft has entered the search engine game with the release of MSN Bot. MSN Bot is now visiting websites and collecting data. It is not yet feeding MSN search which still relies on external sources Overture, LookSmart and Inktomi. The spider has been around as a prototype for a while but has now been released in the wild.
Is Google full?
The recent changes in Google's results pages caused a lot of speculation. Now that the new index is beginning to show, all kinds of theories have begun to emerge. One of them is a really nice one. As far as we can tell this started as a joke, so many people jumped on it that it began a life of it's own. The theory says that Google is 'full' and can't store more than a little over 4 billion pages. According to other sources (in whom HitPRofs has a little more faith) this is just a fraction of Google's real capacity. Google's own (but unofficial) response to the 'news': "there was recently a thread that suggested Google was running out of "address space" to label our documents. I was talking to another engineer here and he said he almost fell out of his chair laughing when he read that." The joke was taken serious by a lot of people because of the lack of new pages in the Google index. That has been solved. Missing pages usually have more to do with Google's strange way of updating.
HitProfs detects bug in Google
Last month (may 2003) HitProfs detected a bug in Google. After webmasters all over the world panicked when Google backlinks seemed to have been reduced by about 50%, HitProfs discovered the true reason why the reported number of backlinks had dropped so drastically. Until then Google had simply counted all backlinks twice. HitProfs posted it's findings in the Google news forum at WebmasterWorld where the problem was confirmed by Google within a few hours.
HitProfs buys HitMan
HitProfs proudly announces the acquisition of HitMan Search Engine Optimisation. HitMan was introduced in the Netherlands in 1998 and thus is the oldest SEO brand still available in Holland. HitMan has been completely updated in 2001 and again in 2002.